We spent last Friday night trying to setup the camera mount on the labyrinth board.
We've narrowed down our mounting supplies to a ~0.09″ piece of acrylic, four 3/8″ all thread rods, and a 3'x3′ wood base.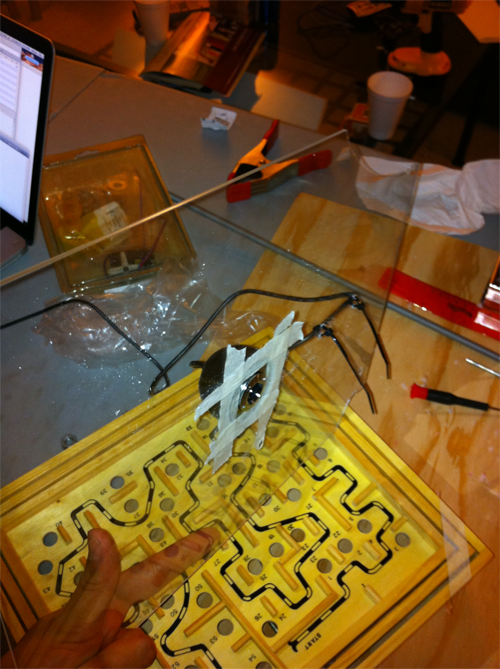 We've discovered a huge problem with our ~0.09″ acrylic and Patrick's (concrete?) drill bits. The bits seem to be introducing a large amount of torque on the surface of the acrylic, causing the plexiglass to instantly crack upon drilling.
We've been able to slowly work our way up from 1/32″ bits to 3/8″ to fit the all thread, but this process is extremely tedious.  At $7/sheet for the plexiglass, it seems rather expensive for us to experiment with various bits until all four 3/8″ holes are drilled, not to mention the 2″ hole centered for the webcam.
We're now on the search for a thicker sheet of acrylic. Hopefully this will allow us to begin with a 1/4″ bit and work our way to the 3/8″ bit.